What goes on at Zhi? So glad you asked!
...for folks who are tired of agitated skin and skincare that makes it worse. No one should be forced to deal with itchy, irritated, or dry skin after a shower, bath or any time of day, really. So the goat milk skincare line is formulated with products that are FULL of natural moisturizers and FREE of parabens, sulfates, and other toxins that inflame sensitive skin.
...lung friendly and planet friendly soy candles that burn clean using 100% soy wax. Your home air is filled with amazing aromas instead of carcinogens. Create a moment and breathe easy.
Kim loves teaching and writing...
...about the importance of using skincare products are are, at a minimum, mostly all natural. Organic skincare is best, but she also understand not everyone has access. So, she teaches the art and science of soapmaking in-person and virtually to groups or individuals. She also writes to inform people about skincare and how to choose what's right, based on skin types
Kimberly Cross - Happy Skin Formulator & U.S. Navy Veteran
When a need turns into purpose...
Kim is personally affected by psoriasis and is deeply passionate about serving others with the natural solutions that worked for her.
As a Navy veteran, she strives daily to use skills learned in the military and over 25 years experience as a hair stylist to make a difference personally, in business, and in the community.
Learn more about kim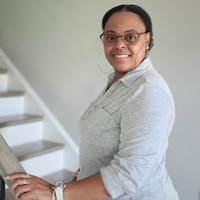 People Say The Nicest Things...
The products are excellent quality. My sister introduced me to Beekman and Zhi was better and customer service was personal. I love the soaps, lotions,& candle.

Shirley Thomas
Zhi bath and body provides a variety of great products that all smell incredible! My personal favorite product is the Jeffery Candle. You seriously cannot go wrong with any of the scents they have... 

Matthew Whyte
Great products. Loving their Fresh Milk and Honey Lotion.

Noelle Allen
I got my Fresh Milk and Honey Goat Milk Lotion for Mother's Day! It's fantastic. Having eczema, finding skin care products that don't irritate, feel light, and smell good is a challenge. So far, I'm loving my new lotion! I also got a lovely soy wax candle, which is wonderful.

Stephanie Davis
Your home and body will thank you!!

U.G.
Using any product from Zhi feels like a spa experience. I love the Eucalyptus Mint goat milk soap, but you can't go wrong with any of the scents! Getting ready to put it my mother's day order, gotta share the magic

Samantha K Davis