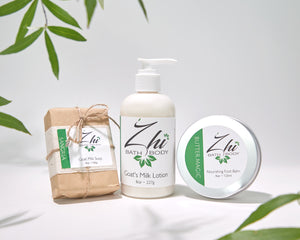 Overly dry skin will always need a little extra care from skincare products. Whether it's from being a first responder that washes hands all the time or the utility worker that is always exposed to the elements, dry skin needs extra moisturizers to help maintain its moisture barrier and STAY healthy.  
Ultimate Moisture is a curated set of our most popular and effective products for moisturizing dry and overly dry skin. Each product includes extra moisturizers like avocado oil and olive oil.
The set includes:
best-selling goat milk cleansing bar to gently cleanse and nourish,
goat milk lotion to lock in moisture without leaving skin feeling weighed down,
and a tub of our signature foot butter to keep feet soft, moisturized, and healthy year round.
Want a little extra umph in your soap?  Be sure to add:
Oatmeal to calm itchiness and inflammation
Lemon & Thyme to polish (exfoliate)
Activated Charcoal to detox
Quick tip:  Be sure to drink plenty of water to help hydrate your skin from the inside out.
YOU MAY ALSO LIKE: