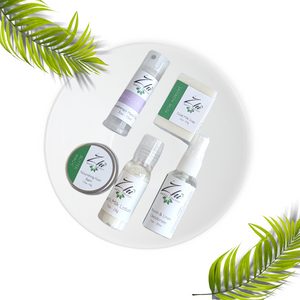 If you're still trying to decide if Mini Zhi Samples are for you, or need a mini version of our natural products to carry around with you for dry-soap-emergency, then you've come to the right place! Our samples give you the power of Zhi's natural formulas without having to commit to something full-sized. Enjoy clean, moisturized skin and a gorgeous smell, free of irritation! Choose from
Goat Milk Soap,
Goat Milk Lotion,
Room & Linen Spray,
Butter Magic Foot Balm,
Intimate Cleansing Foam,
Botanical Panty Spray,
and Rinse-Free Hand Cleanser.
Too hard to decide? Let us do the work - try our Emergency Self Care Kit with my top 5 most popular scents!